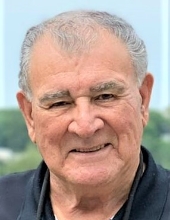 Joseph Virgilio Jr., 79, of Gloucester, husband of Barbara M. (Sova) Virgilio, passed away in Seacoast Nursing and Rehabilitation Center in Gloucester on Saturday, February 18, 2023. His final days were spent surrounded by his loving family and friends. Joseph was born in Gloucester, MA on June 27, 1943, and was the son of the late Giuseppe and Mary P. (Parisi) Virgilio.
Joseph was a co-owner of Virgilio's Italian Bakery in Gloucester and was very active within the community. He was a long-time member of the Gloucester Elks and the Knights of Columbus and had served on the Gloucester tourist commission. In his spare time, he enjoyed cooking for family and friends, visiting Dunk's Schoolhouse in Maine and traveling to Aruba and Florida.
He is survived by his wife Barbara, whom he was married to for 56 years; his children, Mary Bates and her husband David Bates Jr. of Atlanta, GA, Jacqui Nyborg and her husband Rodney Nyborg II of Gloucester, MA, and Joseph Virgilio III and his wife Kristen Virgilio, of Charleston, SC. He is also survived by his six grandchildren, Megan Bates and David Bates III, Rodney Nyborg III and Annika Nyborg, and Joseph Virgilio IV and William Virgilio, and many nieces and nephews.
He was predeceased by his parents, as well as his brother Paul Virgilio and sister Rosemary Virgilio.
Visiting hours in the Greely Funeral Home, 212 Washington St. Gloucester will be held on Wednesday, February 22 from 3:30-6:30 p.m. Family and friends are cordially invited. His mass will be celebrated in St. Ann's Church, Holy Family Parish on Thursday, February 23 at 9:30 a.m. with his burial to follow in Calvary Cemetery in Gloucester. In lieu of flowers, contributions may be made in his memory to the Alzheimer's Association 309 Waverly Oaks Road, Waltham, MA 02452.
Online condolences may be given at: http://www.greelyfuneralhome.com
Visitation
Wednesday, February 22, 2023
3:30PM – 6:30PM
Greely Funeral Home
212 Washington St.
Gloucester, MA 01930
Service
Thursday, February 23, 2023
9:30AM – 10:15AM
St. Ann's, Holy Family Parish
60 Prospect Street
Gloucester, MA 01930