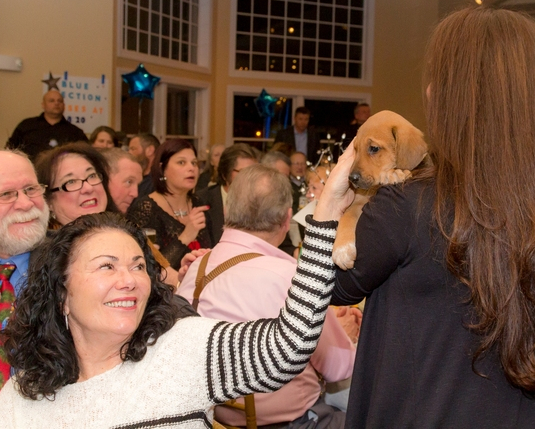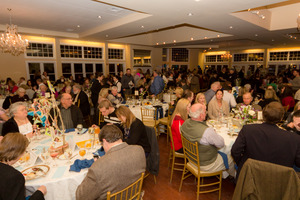 WINTER BALL: A NIGHT TO REMEMBER!
Our 12th Annual Winter Ball Fundraising Gala was held at Cruiseport Gloucester on Friday, February 6, 2015. With over 280 people in attendance, the venue was packed full of generous hearts who bid in the live and silent auctions, purchased mystery envelopes with great prizes, and took part in the wildly fun 'Heads or Tails' Game.
The highlight of the evening was a surprise appearance from Lady Marmalade's five puppies. Together, the crowd raised over $8,000 to cover the expenses of caring for Lady and her brood and other animals in need just like them. We–and Lady Marmalade– are so thankful for their kindness and are happy to share that mama and all five puppies have now been adopted!
The Adopt-a-Table Centerpiece Contest was a huge hit once again! Nine local businesses sponsored the Winter Ball by entering the contest, creating a beautiful centerpiece for one of the tables. Attendees voted for their favorite and crowned Sage Floral Studio with top honors!
We wish to thank all that attended and participated in the event. We owe it all to the many businesses and individuals that donated items, gift certificates, experiences and trips to help the cause. Cheers to you and a big round of 'appawws'!
---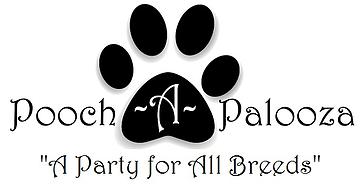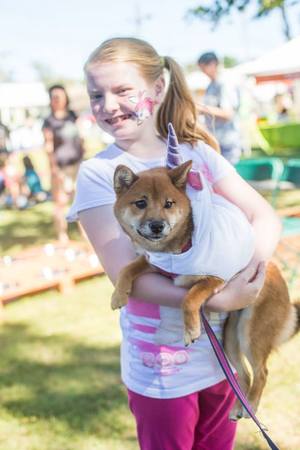 CAPE ANN ANIMAL AID PARTNERS WITH
POOCH-A-PALOOZA
You're likely familiar with Cape Ann Animal Aid's annual event, Dog Day, taking place every September at Stage Fort Park for more than a decade now. A celebration of all things canine, Dog Day has been a wonderful community event for the whole family. This year, Cape Ann Animal Aid has partnered with Pooch-A-Palooza to join forces and celebrate dogs in a much bigger way!
Instead of Stage Fort Park, you'll be heading to Topsfield Fairgrounds this Setpember (6th & 7th) for all the fun! Pooch-A-Palooza, Inc. works to create festivals that bring dog owners together in support of organizations whose mission it is to promote the health and well-being of dogs. In 2015, Cape Ann Animal Aid will receive all of the proceeds from the $1.00 per dog festival admission fee and will also have booths at the event featuring adoptable dogs and fun activities to raise funds.
Festival organizers, Pooch-A-Palooza, Inc., are planning to welcome in excess of 10,000 dog lovers to the festival which features entertainment and activities for the entire family. Last year's event was attended by 7,500 people and 4,000 dogs. Attractions included: The Jersey Disc Devils, Johnny Peers and the Muttville Comics, K-9 demonstrations by the Massachusetts State Police and the Essex County Sheriff's Department. In addition, dog contests, try-it agility and a dog game zone kept four-legged attendees busy. A Kids' Zone, complete with games, giant slide, and bouncy house provided plenty of activities for families, too.
Read more about Pooch-A-Palooza here.
---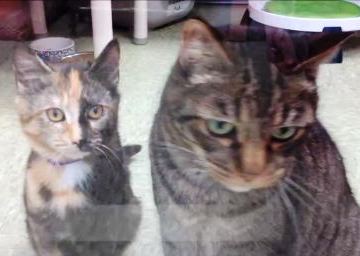 PICKLES AND HAWKEYE
Let us introduce you to a fantastic pair of friends. Pickles and Hawkeye are like a modern day feline edition of The Odd Couple. Hawkeye is 8 years old and Pickles is about 5 months old. Hawkeye loves exploring and lives on the bold side of life while Pickles is more timid and reserved. Yet they were drawn to each other from the start. Pickles looks to Hawkeye for guidance and confidence, happily following his lead and finding comfort in his presence. Hawkeye looks after Pickles and even gets a little nervous when he cannot find her. In those situations, Hawkeye meows a few times and Pickles comes running to see what the fuss is about. Their fast friendship warms our hearts and we've decided it would be best to find them a home together.
Check out this sweet video and help us spread the word. We hope to see Pickles and Hawkeye living together in their new home very soon!