Mark Your Calendars! There is So Much to do Here in Gloucester, Cape Ann…
Check out What's Happening!
For more events, Go To: discovergloucester.com
---
Winter Lights on Cape AnnCelebrating 150 Displays of Lights!November 26 – January 2The Second Annual 2021 Winter Lights on Cape Ann Display Celebration is beginning the day after Thanksgiving. Over 150 places are lit up throughout Cape Ann to help us all celebrate the joys of the season. A custom-designed Google Drive Map has been produced and available at www.discovergloucester.com/winter-lights-cape-ann.- highlighting Rockport, Gloucester, Magnolia, Essex and Manchester's participating locations. We invite family, friends, locals and visitors alike to join us for a month-long promotion of enchanting exploration and glimmering light displays.night.
---
Fall Movie SeriesHighlander atHammond Castle MuseumNovember 21 at 7pmHammond Castle Museum is once again teaming up with Cape Ann Cinema as we present a " Fall Movie Series" of four classic movies. Internationally acclaimed silent film live accompanist, Peter Krasinski returns to perform during three silent movies this season. Doors open at 6:45 pm and the show begins at 7:00 pm. Parking is always free.November 21: HIGHLANDER: 35TH ANNIVERSARY SCREENING (1986)While this 1980s video store staple spawned many sequels and TV series, "There can be only one," to quote the movie's most quoted line. This modern sword-and-sorcery stars one-time Tarzan Christopher Lambert as Connor MacLeod (of the Clan MacLeod!), an immortal 16th-century Scottish Highlander living in 20th-century New York, who becomes embroiled in a fight to the death with other immortals, with the ultimate prize being the mysterious "Prize" (the power of all the immortals who have ever lived. Great performances by bad boy Clancy Brown as the evil Kurgan, and Sean Connery as MacLeod's friend and mentor, Ramírez (a Spaniard… with a Scottish accent… but born in ancient Egypt). Featuring a great soundtrack by Queen.https://www.hammondcastle.org/product/fall-movies/Hammond Castle Museum; 978-283-2080l www.hammondcastle.org
---
Shop Local! Shop Now!Small Business SaturdayNovember 27 from 10am-8pmGloucester, Cape AnnGather your family and friends and come to Gloucester for a shopping day at local retailers, restaurants, and businesses for Small Business Saturday! Continue your post-Thanksgiving holiday with a fun-filled day to get in the holiday spirit and support our small businesses in and around our coastal city. Go to: www.discovergloucester.com
---
---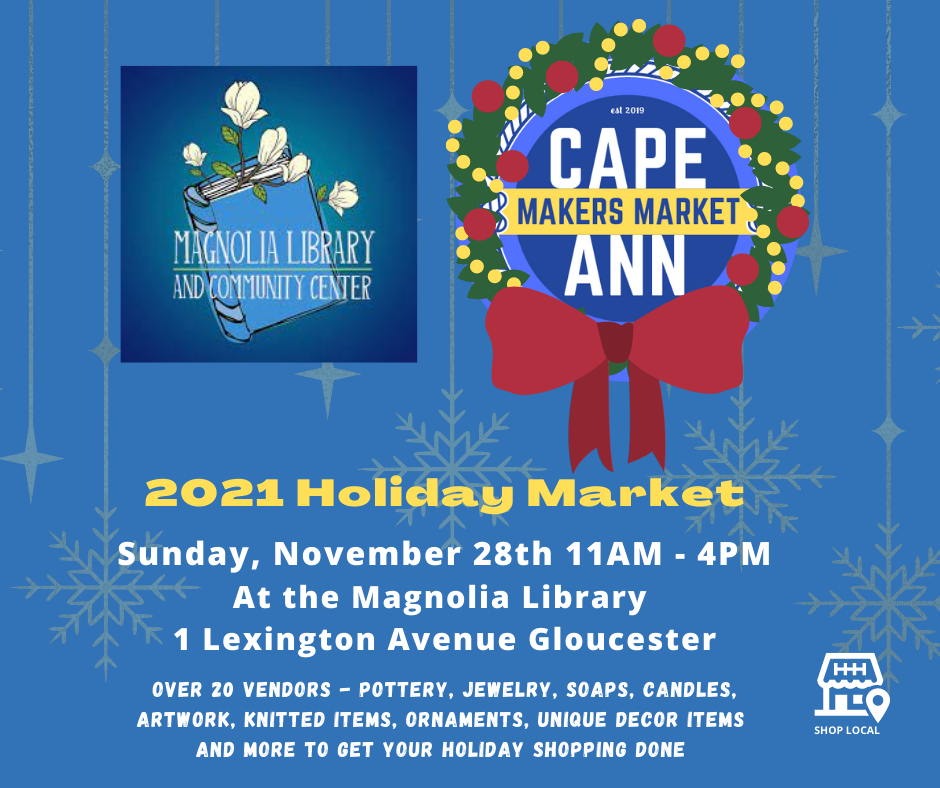 Cape Ann Makers Market –2021 Holiday MarketNovember 28 from 11:00am – 4:00pmMagnolia Library & Community CenterCape Ann Makers Market (CAMM) is ready for the holidays! Come down to the Magnolia Library and Community Center for CAMM's 2021 Holiday Market featuring over 20 Cape Ann vendors — many first-time CAMM vendors — offering locally made Arts and Crafts, including jewelry, pottery, sculpture, painting, photography, metalwork, woodwork, fiber arts, candles, hand-harvested artisan sea salts, handcrafted soaps, natural body care, and much more. For the book lovers on your shopping list, the Magnolia Library and Community Center will also be running a holiday book sale through the event! Magnolia Library and Community Center, 1 Lexington Ave, Gloucester. https://www.facebook.com/CAMakersMarket/ or www.magnolialibrary.org
---
Retrospective for Mary Rhinelander McCarl at Cove Gallery, 37 Rocky Neck AvenueNovember 27 & 28; Noon to 5 PMOrganized by McCarl's niece, Gloucester artist Mary Rhinelander, the show will display McCarl's colorful artwork, from watercolor/gouache to the collages made from her vibrant hand-painted papers. Proceeds from sales of still lives and landscapes will be shared with the Rocky Neck Art Colony and the Children's Programming Fund at the Sawyer Free Library. Her bed positioned with a view of Good Harbor Beach, Mary Rhinelander McCarl died at home, on her own terms, late this past spring. From her birth in 1940, she spent some part of every year in Gloucester, eventually retiring to Old Nugent Farm. A polymath with a photographic memory, McCarl excelled at everything she focused her mind on or put her hand to. "She never stopped working, even during the days immediately preceding her death," says her niece. Her creativity required only paper, a brush and her imagination."As a serious intellectual and scholar, McCarl managed to enliven even the driest of topics," says her niece. "But it was in her art practice that she really let go, where she was joyful and unconstrained. The breadth of content on her bookshelves attests to an ongoing and diverse curiosity, but also provides insight into her artistic heroes: Matisse, Hockney and a smattering of Fairfield Porter."At Cover Gallery, 37 Rocky Neck Avenue, Gloucester. Organized by Rocky Neck Art Colony, www.rockyneckartcolony.org
---
DIY Vintage Holiday Ceramics atThe Gloucester House RestaurantMonday, November 22 from 5:30-8pmLet's create some holiday cheer! Join Create & Escape DIY Workshops at The Gloucester House for a festive night of DIY Vintage Holiday Ceramics on Monday, 11/22, from 5:30-8:00 pm! Choose from their 4 ceramic options and reserve your spot at https://www.createandescapediy.com/products/11-22-21-mon-5-30pm-diy-vintage-holiday-ceramics-gloucester-house-restaurant Contact hello@createandescapediy.com with any questions.
---
Cape Ann MuseumShop, Sip, Support!Tuesday, Nov. 30 from 10am-7pmYou're Invited! On Giving Tuesday, give the gift of CAM! Jump start on holiday shopping and shop at the Cape Ann Museum's thoughtfully curated holiday gift shop featuring exciting new merchandise from local designers including Coleman Coastal Crafts, We Dream in Colour, Cermica del Mar, Prospect Hill Handmade and many more! Enjoy: Bubbly. Gift Membership Discounts.Giveaways.Laughs with your shopping pals. Shopping exclusive Cape Ann Museum products. Can't make it to shop? Browse online at store.capeannmuseum.org.For questions, please contact Amanda Pollock (978) 283-0455 x. 110 or amandapollock@capeannmuseum.org. 27 Pleasant Street. Gloucester. 978-283-0455
---
Middle Street Walk, GloucesterSaturday, December 11From 9am – 4:30pmJoin us for a free, event-filled stroll on historic Middle Street. The Walk ends at 4:30pm with the Lobster Pot Tree Lightings at the Police Station Plaza. Visit our website for schedule of Events and Activities. Middlestreetwalk.org and on Face Book.
---
Cape Ann and Monhegan Island Vistas: Contrasted New England Art Colonies at Cape Ann Museumthrough March 16, 2022The growth of two of New England's oldest and most revered summer art colonies is the subject of a special exhibition, on display at the Cape Ann Museum from Oct. 30, 2021-Feb. 13, 2022.The exhibition features works by artists who visited and were inspired by both Cape Ann and Monhegan. Among them are Theresa Bernstein, Walter Farndon, Eric Hudson, Margaret Patterson and Charles Movalli. Monhegan and Cape Ann trace the roots of their respective art colonies back to the mid-19th century and specifically to the years immediately following the Civil War. Summer enclaves which sprung up during that time gave artists the chance to socialize with one another and to work together, sharing ideas, trying out new techniques and critiquing each other's work. During the early 20th century, both communities saw a surge of artists, professionals and amateurs, visit their shores. Today, Monhegan and Cape Ann continue to be vibrant regional art colonies of national significance. Learn more at www.capeannmuseum.org. "Cape Ann & Monhegan Island Vistas: Contrasted New England Art Colonies" was organized by CAM in collaboration with the Monhegan Museum in Monhegan, Maine, and curated by art historian James F. O'Gorman. https://www.capeannmuseum.org/exhibitions/cape-ann-monhegan-island-vistas-contrasted-new-england-art-colonies
---
Get your FREE Discover Gloucester Visitor Guide — chock full of great information for your upcoming visit!As you plan your getaway to our charming coastal community, order the Official Discover Gloucester Visitor Guide. In addition to the guide, you will receive access to our website full of Gloucester excursion ideas that include outdoor dining, shopping, boating adventures, whale watching, overnight packages, parks, trails and hikes. To receive a copy and to view the online guide click HERE!